About Dr. Robert
----------------------------------------------------------------------------------------------------------------------
Dr. Robert Kleinwaks is an expert performance coach and author, who practiced sports medicine and sports nutrition for more than 20 years. He received his Doctorate of Chiropractic in 1983, graduating Magna Cum Laude. He owned one of the largest health and wellness centers on Long Island, N.Y. He also has completed extensive post graduate study on sports injuries and nutrition. He was a member of the Council for Sports Injuries and Physical Fitness.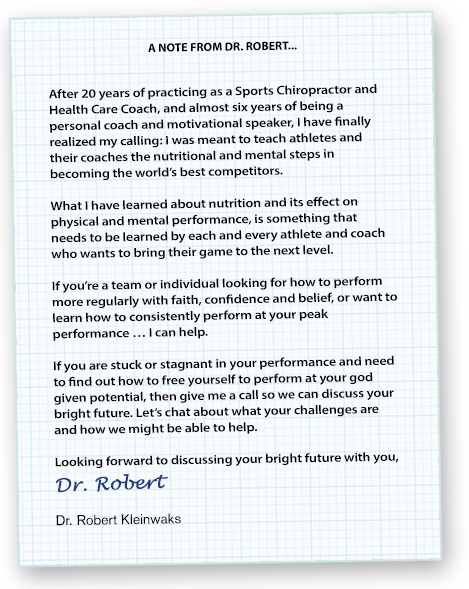 He has treated many high-level athletes including several New York Yankees, MMA fighters, many professional tennis players, football players, basketball players, hockey players and bowlers.
For the past decade, Dr. Robert has been a sought-after public speaker and performance coach - both nationally and internationally. He regularly shares his expert knowledge on nutrition, peak performance and natural health with sports groups, and professional leadership groups world-wide. His book "The Sports Triad",focuses on maximizing health and performance naturally (unleashing an individuals maximum potential), by changing the way they think and eat.
Dr. Robert has appeared on several TV shows, and has also spoken on many radio programs about Health and Athletic Performance.
If you have any questions for Dr. Robert, please feel free to email or call him directly.
DrRobert@eatandthink2win.com
-or-
Ph.
516-200-5400