Athletes and Coaches
----------------------------------------------------------------------------------------------------------------------



The

Eat and Think 2 Win

program teaches how matching a positive mental attitude with proper nutrition and vitamin supplementation, can maximize ones peak physical abilities. Just imagine if you were always prepared to delivery your best athletic performance ... we can teach you how!

Dr. Kleinwaks's presentation can be customized to fit any specific sports group, though the concepts and principles in his standard lecture can be applied to any sporting discipline.


The lecture is easy to follow for any high school or college athlete, and almost always challenges the thinking and eating of most of the professional athletes he works with. It is also perfect for parents, coaches and athletic directors who want to learn more about taking good athletes and teaching them how to compete at the highest levels, getting the most out of their athletic strengths and weaknesses.

The lecture is a combination of interactive demonstrations, short inspirational video's, and Power-point slides. The motivating information keeps each individual engaged, while they are learning materials that are easy to understand, and can be immediately implemented. The presentation normally lasts an hour and a half, with time for questions and answers at the end.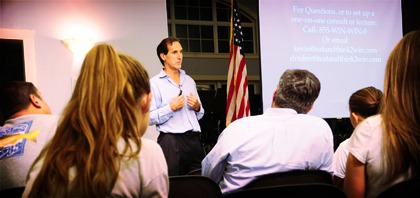 The lecture can also be broken into two, one-hour lectures, one on the mental aspects of competing, and one on the nutritional aspects of competing. This enables organizations to pick from one of the two topics or both, depending on their time restraints or topic of interest. This also allows us to go into more depth and detail on one or both of these topics, allowing the audience to get a deeper understanding of the materials taught.




Some of the program benefits




----------------------------------------------------------------------------------------------------------------------



Improving mental focus

Getting the most out of every practice




Preventing choking in key situations

Building confidence & staying positive

Visualization and affirmation techniques

Goal setting and creating vision boards

Learning how to use nutrition and natural supplements and formulas for:



1. Improving endurance, and energy




2. Increasing speed




3. Increasing strength

and power




4. Injury prevention and treatment




5. Improving overall health




6. Increased eye hand coordination



For additional information or to book a lecture, please call 516-200-5400, or email at
Morgan@EatandThink2Win.com